Our Doctor
Dr. Jeannie Alvarado – Astaiza, DDS
"Dr. Jeannie"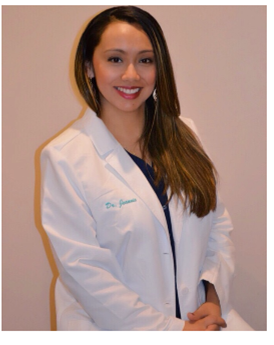 Dr. Jeannie graduated with a cum laude degree in biology from St. John's University. After receiving her Doctor of Dental Surgery degree at New York University College of Dentistry in 2005 , she completed a one-year general practice residency at Jamaica Hospital in Queens. She continued to work in a family practice for about two years. Then, while starting her own family, she decided to complete an additional two years of specialty training in pediatric dentistry at Bronx Lebanon Hospital in the Bronx. During her residency, Dr. Jeannie served as chief resident with added responsibilities and also gained valuable knowledge in treating children with special needs.
Dr. Jeannie is also a mother of four beautiful children and a board certified pediatric dentist who is specially trained to treat children. Through her vocation, she looks forward to eliminating fears in the most apprehensive patients. She treats each child as if he/she were her own.
Additionally, she is a Diplomate of The American Board of Pediatric Dentistry and a member of American Academy of Pediatric Dentistry, Nassau County Dental Association, and the American Dental Association.